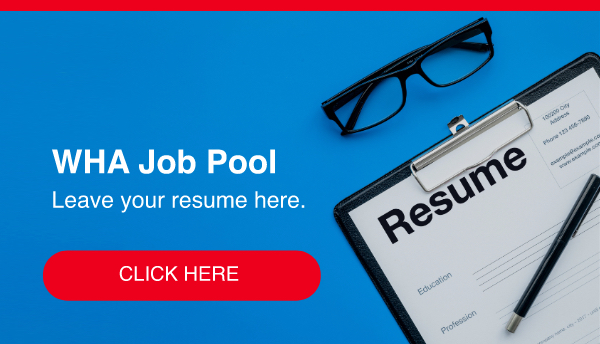 WHA E-Job Market
The First Online Job Fair in Eastern Seaboard
The impact from COVID-19 situation in Thailand has critically hit the workforce in many industries. Thus, there are some sunrise industries that still look forward to fill the vacancies in their manufacturing plants. WHA would like to assist both WHA customers to find candidates and the community in the EEC area to find a job easily by launching the WHA E-Job Market.
For recruiters who would like to leave your job vacancies, please send the details to jobpool@wha-industrialestate.com.
For job seekers who would like to leave your application form, please click https://www.wha-industrialestate.com/en/job-pool/application-form
Find the latest job vacancies from companies in WHA Industrial Estates.
Filter by Location:
Filter by Company:
บริษัท นิเด็ค ได-คาสติ้ง (ประเทศไทย) จำกัด เราเป็นบริษัทญี่ปุ่นในกลุ่มบริษัท NIDEC ผู้ผลิตฐานอลูมิเนียมสำหรับฮาร์ดดิสก์ไดร์ฟเพื่อขายให้กับผู้ผลิตคอมพิวเตอร์ที่มีชื่อเสียงทั่วโลก ขณะนี้เรากำลังมองหาบุคคลที่มีคุณสมบัติเข้าร่วมทีมของเราเนื่องจากการเติบโตของคำสั่งซื้อ
รายละเอียดของงาน
Control Occupational Health & Safety System comply with Law or related other regulation in company.
Set the training program for safety & environment comply with Law or related regulation.
Setup plan and control Emergency Preparedness and response.
Coordinate/ Support/ Submit document to the government.
Follow Annual Plan & Project and implement follow plan.
Accident investigation and report.
Other task as assigned.
คุณสมบัติผู้สมัคร
Bachelor's degree in major Occupational Health and Safety or related fields.
0-3 Year Experience in Occupational Health and Safety in industry.
Knowledge in ISO standard and requirement (ISO9001, ISO40001, ISO16949).
Good command in English and computer literacy.
Good interpersonal skill, proactive and leadership.
วัน – เวลาทำงาน : วันจันทร์ – ศุกร์ (และวันเสาร์ตามปฏิทินบริษัทฯ) เวลา 08.00 – 17.00 น.
สถานที่ปฏิบัติงาน : นิคมอุตสาหกรรมดับบลิวเอชเอชลบุรี 1 เลขที่ 362-364 หมู่ที่ 6 ตำบลบ่อวิน อำเภอศรีราชา จังหวัดชลบุรี 20230
สวัสดิการ : ค่าอาหาร, ค่าครองชีพ, ค่าเดินทาง, เบี้ยขยัน, ค่ารักษาพยาบาล, กองทุนสำรองเลี้ยงชีพ, ชุดฟอร์มบริษัท, ตรวจสุขภาพประจำปี
วิธีการสมัครงาน
สนใจยื่นใบสมัครด้วยตนเองที่บริษัทฯ หรือ
ส่งประวัติ Resume พร้อมเอกสารสมัครงาน มาทาง E-Mail
ฝ่ายทรัพยากรบุคคล
โทรศัพท์ : 038 – 296 – 816 กด 116 หรือ 117, 081-8622338
อีเมล : navarat.pujeen@nidec.com, sirikul.khamdech@nidec.com