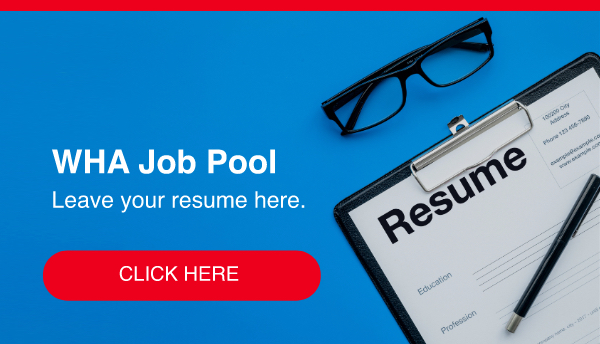 WHA E-Job Market
The First Online Job Fair in Eastern Seaboard
The impact from COVID-19 situation in Thailand has critically hit the workforce in many industries. Thus, there are some sunrise industries that still look forward to fill the vacancies in their manufacturing plants. WHA would like to assist both WHA customers to find candidates and the community in the EEC area to find a job easily by launching the WHA E-Job Market.
For recruiters who would like to leave your job vacancies, please send the details to jobpool@wha-industrialestate.com.
For job seekers who would like to leave your application form, please click https://www.wha-industrialestate.com/en/job-pool/application-form
Find the latest job vacancies from companies in WHA Industrial Estates.
Filter by Location:
Filter by Company:
Summary :
QA & QC Assistant Manager is responsible for quality control system to assure quality standard of product, in process quality control and Finished Goods quality assurance will be compliance with food laws and customer requires. Report to QA & QC Manager
Key Responsibilities :
Lead implement and maintain the QA & QC system control
Ensuring the effectiveness of food safety system (GHPs & HACCP,Halal and other related)
Responsible for documentation control of the Quality Management systems.
Review and update all specifications: raw material, processing, packaging and finished products to ensure effective product safety and sanitation design
Verifies and validates quality systems to ensure that the systems are working properly and safely.
Verify that the quality related site activities are in accordance with the applicable standards
Plan, conduct and monitor testing and inspection of raw materials and products to ensure finished product quality.
Devise sampling procedures and directions for recording and reporting quality data.
Review the implementation and efficiency of quality and inspection systems.
Approves incoming raw materials by confirming specifications, conducting visual and/or measurement test, rejecting and/or returning unacceptable raw materials.
Approves finished products by confirming specification, conducting visual and/or measurement test, returning products for rework, confirming re-work.
Coordinate all the quality site inspections through the site QA & QC staff
Analyzes data and evaluates patterns and trends in results from quality control tests.
Ensure all control documentation are update and corrected with the standard and regulations
Update and correct all documents ready for audit by Government certify Body or third party.
Provide training in areas of food science, regulatory requirements and quality measurement systems.
Train the trainer and develop programs and assess programs for effectiveness
Trouble-shoots, assess and responds to situations and is pro-active.
Maintain confidentiality
Experience & Skill Requirements :
Female age 25 - 35 yrs. Degree in food science or food technology or related field
At least 3 years experience in food industry especially in Frozen food background
Strong knowledge or successfully managed a quality system are preferable (including GHPs, HACCP, HALAL, ISO 9000 or etc.)
HACCP trained and internal auditor qualification are preferable
Clear understanding and working knowledge of process and compliance quality systems, ability to conceptualize, analyze, plan and organize projects.
Be honest and trustworthy and able work under pressure.
Strong interpersonal, communication and organization skills
Reasoning skills of problem identification and resolutions.
Able to communicate and written in English only.
Computer literacy (MS Office)
Able to work at Pluakdaeng District, Rayong
Interested candidate, please send your resume in English (Word format only) along with your recent photo and expected salary to us by E-mail : valeerat@portroyal-siam.com.
Only short-listed candidates will be notified.