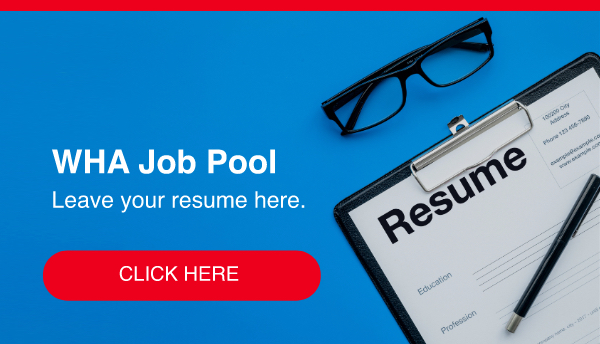 WHA E-Job Market
The First Online Job Fair in Eastern Seaboard
The impact from COVID-19 situation in Thailand has critically hit the workforce in many industries. Thus, there are some sunrise industries that still look forward to fill the vacancies in their manufacturing plants. WHA would like to assist both WHA customers to find candidates and the community in the EEC area to find a job easily by launching the WHA E-Job Market.
For recruiters who would like to leave your job vacancies, please send the details to jobpool@wha-industrialestate.com.
For job seekers who would like to leave your application form, please click https://www.wha-industrialestate.com/en/job-pool/application-form
Find the latest job vacancies from companies in WHA Industrial Estates.
Filter by Location:
Filter by Company:
Company Profile:
Founded in 1871, Hellmann's transition from a one-man company to one of the world's leading logistics providers. Today we operate a truly global organization with an active network in 157 countries 443 branches 16,500 people while remembering our humble beginnings: we continue to value every customer and understand that each project requires a unique solution. This powerful combination of an individual approach within an international framework ensures that we deliver top-quality customized logistics solutions, every time.
About the Role:
This is mainly a hunter position. As the Business Development Manager LCH, you will report directly to the Thailand Sales Manager. Working with an exciting team of people, your overall objective is hunt for new business and develop existing accounts.
Your responsibilities are but not limited to:
Schedule and conduct sales calls to new customers and within a targeted industry
Achieve your sales KPI on a monthly basis
Manage and maintain relationships of customers you've won in your portfolio
Schedule time for joint calls with sales professionals, targeting accounts to provide assistance with the sales process
Provide marketing support and knowledge within the company
Utilize a pro-active approach of cooperative teamwork in assisting sales professionals and managers throughout HWL (worldwide) to sell and support accounts
Continually improve your knowledge of products and services, and follow the changes in industry to develop new products
Write up SOP for each secured customer, go through SOP with concerned operational parties to ensure that all understand the required processes and share SOP in common drive Update all sales activities in Helios CRM on a weekly basis (before 05.00 p.m. of Sunday for sales activities of the same week)
Requirements for the Role:
The Business Development team is built around a knowledgeable, experienced and passionate group of people who are proud to be part of an elite global brand name in the Freight and Logistics industry. We are looking for someone to join this team with a like for like attitude and desire to work with the company to develop a successful career within the organization long term.
Required minimum 3 years in Freight Forwarding sales
Proven ability to establish and maintain business relationships
Negotiation skills essential
Time management skills essential
Strong ability to communicate effectively both written and verbally in English
Ability to work in a multi team environment
A proactive "can do" attitude
Integrity and strong work ethic
Direct reporting line
Sales & Marketing Manager Thailand
Benefits
5 days working, Incentive, Annual Leave 14 days, Provident Fund 3-5%, Group Insurance and Uniform.
Contact :
Mr. Sarayuth / HR via mobile phone number: 089-772-7475, office tel. number 02-661-9638 # 402 or please submit your update resume to e-mail: shtechar@hellmann.com