WHA Eastern Seaboard Industrial Estate 1 – WHA ESIE 1
Formerly known as Hemaraj Eastern Seaboard Industrial Estate
Cluster Promotion with BOI Investment Program | Free Zone Available
Estate Specialty: Automotive Cluster, Plastics & Polymers, Metal Fabrication, Electronics, Building Materials, Agro & Consume, Building Materials, Logistics, Robotics, Next Generation Automotive, Smart Electronics and others​
WHA Eastern Seaboard Industrial Estate (WHA ESIE 1) is located in Pluak Daeng District, Rayong Province, and comprise an area of 8,003 rai (3,163 acres or 1,281 hectares) with access from Highway 3574 and it is approximately 30 kilometers from the Laem Chabang deepsea container port and Sri Racha city.
Comprise an area of
8,003 Rai
(3,163 acres or 1,281 hectares)
WHA ESIE 1 started operations in 2006. Today, there are more than 127 customers representing 207 contracts who have invested in excess of USD 7 Billion. WHA ESIE 1 is an expansion of automotive cluster of Eastern Seaboard Industrial Estate (Rayong). Suzuki has set up its Eco-Car production base at WHA ESIE 1, which is seamlessly connected to ESIE. More recently, Ford Motor Company Thailand selected WHA for the manufacturing of "B" size passenger cars. Similarly, when Thai Summit Group, one of the largest auto parts manufacturers in Southeast Asia, needed to expand production they selected WHA ESIE 1.
The high-quality infrastructure at WHA ESIE 1 includes wide roads in good condition, a stable power supply, availability of a range of communications networks, treated potable water, wastewater treatment facilities that meet environmental standards, and solid soil bearing capacity that averages 30 tons per square meter. In addition, WHA provides comprehensive industrial estate operations management as well as extensive commercial and other meeting facilities at Plaza 3.
Free Zone
Totaling 702 rai (277 acres or 112 hectares), the Free Zone at WHA ESIE 1 provides companies that manufacture primarily for export with additional tax and duty privileges, similar to a customs bonded area. The area is under the supervision of the Customs Department of Thailand.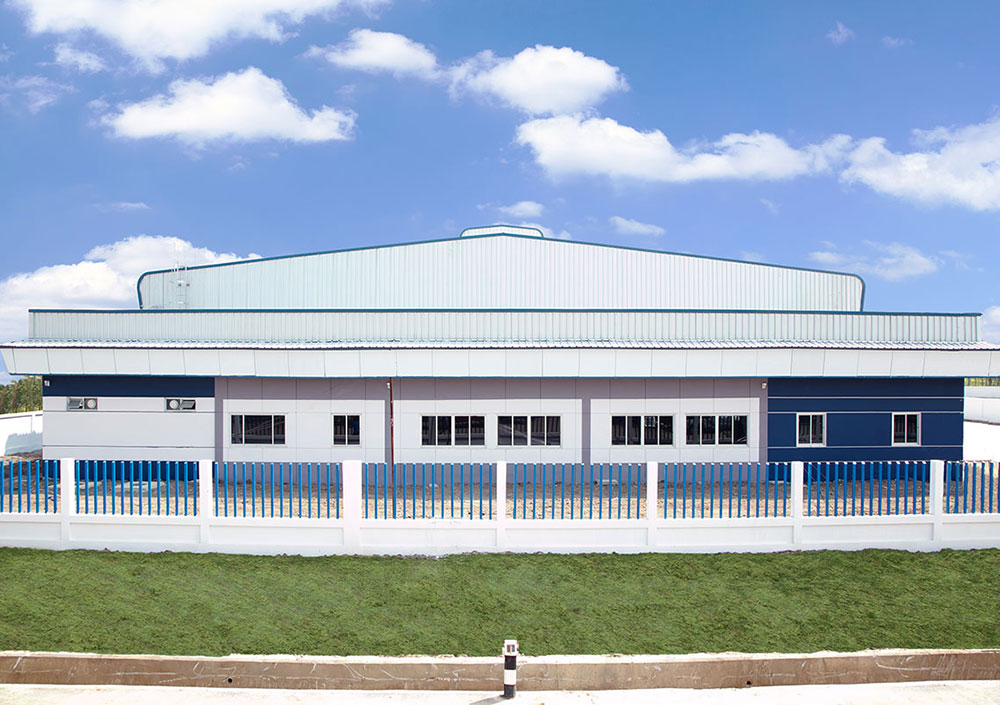 Ready Built Factory For Rent
At WHA ESIE 1, WHA has designed and developed Ready Built Factories for rent ranging in size from 500 to 9,900 square meters and can be larger, depending on customer requirements. A WHA company is available to manage the utility and fit-out requirements.
LEARN MORE
Infrastructure and Utilities
Wide Road in Good Condition
32- 52 meters width reinforced concrete
Stable Power Supply
22kV and 115kV by PEA /115kV/22kV substation & Substation 2x50 MVA on site
Communication Network
Full range of stable communication networks for fixed-line and mobile telephone network. Data Communication Lease Line by UIH, CAT, TOT and JASTEL.
Industrial Water
30,000 cu.m./ day
Wastewater Treatment
6,000 cu.m./day (expandable)
Plaza
"Plaza 3 - Coffee shop, tea shop, restaurants, banks and convenient store also the Pluakdaeng Police Office"
Gas
Natural Gas provided on site by PTT & PTT NGD
Emergency Response
24/7 emergency service
Our Customers
Automotive Cluster, Plastics & Polymers, Metal Fabrication, Electronics, Building Materials, Agro & Consume, Building Materials, Logistics & Others
Factories in WHA Eastern Seaboard Industrial Estate 1




MORE CUSTOMERS
WHA Eastern Seaboard Industrial Estate (WHA ESIE 1)
| Distance | Point to Point | Driving* |
| --- | --- | --- |
| To Laem Chabang Deep Sea Port | 27 Km. | 37 Km. |
| To Si Racha | 32 Km. | 43 Km. |
| To Pattaya | 36 Km. | 52 Km. |
| To Map Ta Phut Deep Sea Port | 39 Km. | 48 Km. |
| To Suvarnabhumi Airport | 83 Km. | 117 Km. |
| To Bangkok | 112 Km. | 145 Km. |
*Using google map. Distance varies to route selection.
For more information about this location, or arrange a site visit, please fill in the form at Contact Us page
Contact Us