Highlights of WHA's Industrial Estates
22/06/2022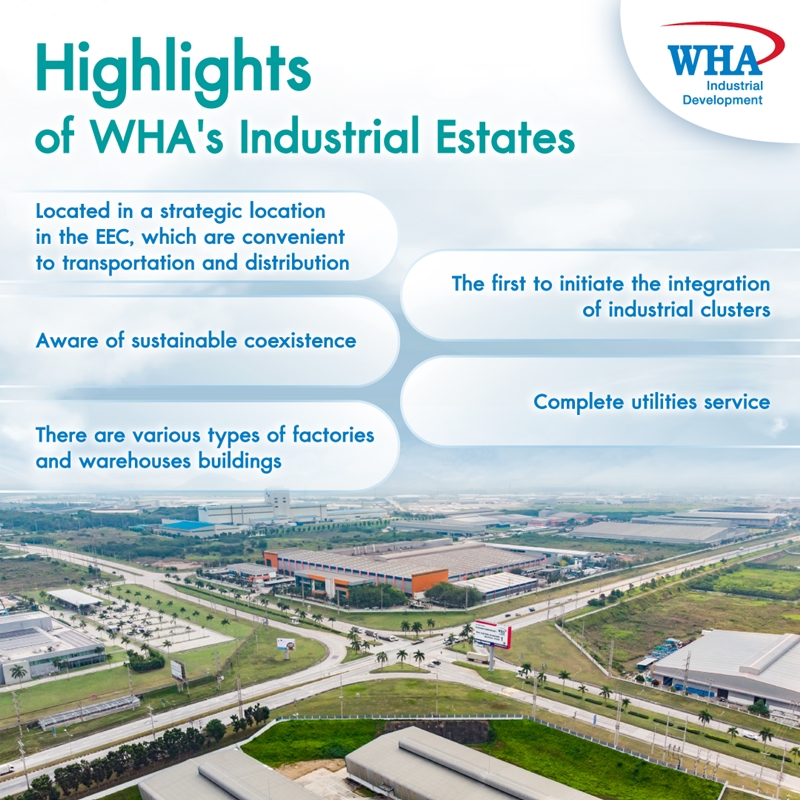 WHA Group provides development services for industrial estates, industrial estate lands, and factory construction lands, including ready-to-use factories and warehouses, along with a full range of real estate services.
At present, we have 12 industrial estates and zones located in Thailand and Vietnam. In the operations of these industrial estates, we focus on several matters as follows:
They are located in a strategic location in the EEC and Saraburi areas, which are close to key areas for product ​​transportation and distribution;
We are the first to initiate the integration of industrial clusters in Thailand;
We are aware of sustainable coexistence among industrial estates, communities, and environment;
There are complete utilities, such as clean water, wastewater treatment, waste disposal and landfill, and electricity generation; and
There are various types of ready-to-use buildings to support investors, including ready-to-use factories and warehouses in logistics parks.
As the number-one leader in the field of industrial estate development and comprehensive solutions to customers in the industrial sector, together with the various factors mentioned above, this allows customers to trust that WHA Group is still committed to and ready to develop its services so that they always get the best.
#WHA #WHAGROUP #WHAID #WHAESIE3 #INDUSTRIALDEVELOPMENT #INDUSTRIALESTATE #INDUSTRIALLAND #EEC #CHONBURI #RAYONG
#ดับบลิวเอชเอ #ดับบลิวเอชเอกรุ๊ป #นิคมอุตสาหกรรม #นิคมอุตสาหกรรมดับบลิวเอชเอ #เขตประกอบการอุตสาหกรรม #เขตประกอบการอุตสาหกรรมดับบลิวเอชเอ #นิคมอุตสาหกรรมอีสเทิร์นซีบอร์ด #อีอีซี #ชลบุรี #ระยอง
=============================
Website: www.wha-group.com
Facebook: www.facebook.com/whagroup
Twitter: www.twitter.com/GroupWha
LinkedIn: https://lnkd.in/ghbKpFN
Youtube: https://www.youtube.com/TheWHAGroup